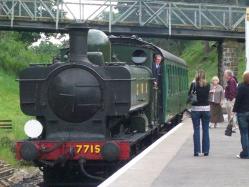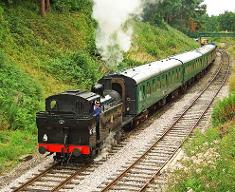 Lovely traditional steam railway line which takes the route from Tunbridge Wells to Groombridge via the High Rocks. Perfect place to take the kids and ride on trains from a bygone era.

When visiting the Spa Valley there are pay and display car parks in Tunbridge Wells. (Public car park not owned by the railway.) Free parking at High Rocks Inn TN3 9JJ. No parking at Groombridge station

The East Grinstead, Groombridge and Tunbridge Wells Company was granted approval in 1862 to construct a railway in an eastwards direction from East Grinstead to Tunbridge Wells. Closure for the Groombridge to Tunbridge Wells West line came on 6 July 1985. A preservation society was formed with the aims of operating the route as a preserved railway. After a long hard struggle they were rewarded when they acquired the line in the early 1990s.
Service: Saturday & Sunday 3 April - 31 October / Bank Holidays
Tickets: Adult £6.00, Child £3.50, Family £16.00 (2 adults and 2 children) unlimited travel on day of issue
Have you been to Spa Valley Railway? How was it, would you recommend it?