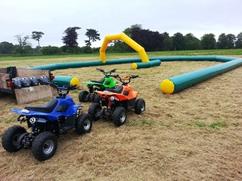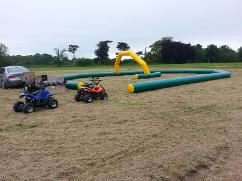 Funtastic Leisure

75 Beverley Road,


Maidstone,

Kent


ME169DX


07814156582
Website not know

Funtastic Leisure specialise in Inflatable activities for children age 8-16 years, they have full Public Liability insurance up to 5 million pounds cover and a recent risk assessment.
They can offer a service to you in Junior Quad Hire, Bouncy Castles and Inflatable Slides, Quad hire is also extremely popular, they use Thundercat Quads, well known for quality build and reliability, although more expensive than the cheap Chinese import quads some companies use, they are much safer for children, they are also equipped with a engine cut off cord, this can be pulled at any time by the supervisor on the track and it cuts the engine off immediately, the quads are also built with full foot and ankle cover on the foot pegs of the quads to protect the lower legs and feet.
Their track is inflatable and ensures that when the smaller children go off course with possibly poor steering skills they only bump in to a side barrier much the same as a bouncy castle, this ensures the barrier takes the impact of the quad and does not jolt the head forwards quickly as if you was hitting a solid barrier. The Quads are all restricted to a maximum speed of 8mph, this ensures children of all ages do not drive faster than their skills will allow.
They pride our company on Safety, but at the same time ensuring we put the smiles on the faces of the children as they set off on their quad track after being given full instruction on how to ride them and their crash helmets being adjusted to suit their head size.
Have you used this firm before. Would you recommend them?

Do you own this business?

Want to add more details to this page for free?

Contact Tonbridgesearch.com